DOMESTIC & COMMERCIAL ELECTRICIANS
24/7 Electricians in Richmond upon Thames

Welcome to the Richmond upon Thames branch of Putney Electricians. With 21+ years experience in all types of electrical installation, fault-finding & repair, wiring, re-wiring, EICR electrical inspection & PAT testing, our highly skilled, fully licensed & bonded electricians operate throughout the Borough including Barnes, East Sheen, Mortlake, Kew, Richmond, Twickenham, Teddington and Hampton.
24/7 EMERGENCY ELECTRICIANS WITH NO CALL OUT FEES
Richmond Electrician Rates From £80+VAT/Hour
We offer competitive, fixed price quotes on all electrical services, so you know in advance what your costs will be, with no nasty surprises. We do not charge a call out fes, and with hourly rates from just £80 + VAT, we're one of the most affordably priced and experienced domestic and commercial electricians in South West London. All work is quality assured and carries a 25-year warranty.
£80
Electrical repairs from
£80 / hour + VAT
£80
From £80 + VAT
per socket / switch
£620
New / replacement
fuse box £620 + VAT
£185
Inspection / Certificates
from £185 + VAT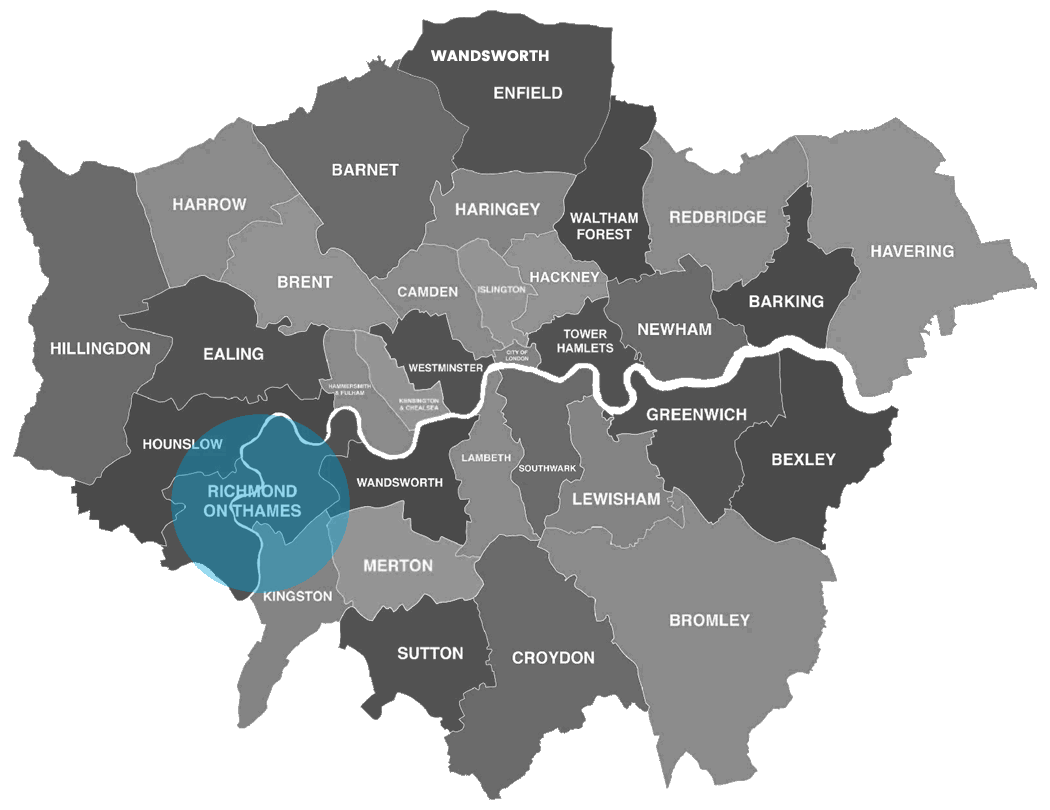 Sprawled along the poetic twists of the River Thames, the London Borough of Richmond upon Thames is a lush oasis that marries historic elegance with verdant beauty. From the aristocratic allure of Hampton Court Palace to the picturesque sprawl of Richmond Park, where deer roam freely amidst ancient trees, the borough exudes an enchanting blend of nature and nobility.
Every corner of Richmond upon Thames tells a tale. Twickenham resonates with the roaring spirit of rugby; Teddington locks with its tranquil riverside charm, while Kew Gardens, a UNESCO World Heritage site, blooms with botanical wonders. Each area, whether it's the bustling markets of Richmond town or the serene lanes of Barnes, is a testimony to the borough's timeless appeal and commitment to preserving its rich heritage. For every heritage home in need of sensitive restoration or every contemporary establishment seeking innovative lighting solutions, our Richmond electricians are at the forefront.
As this borough of contrasts flourishes, our team of Richmond upon Thames electricians is ever-ready. Be it a listed building in need of delicate restoration or a modern home in East Sheen aiming for the latest in energy-efficient lighting, our expertise ensures every need is catered for. Our team is adept at ensuring that every residence, business, and public space in Richmond radiates its own unique brilliance.
Whether it's a riverside restaurant in Richmond or a historic theatre in Twickenham, our skilled team seamlessly integrates the best of electrical solutions without compromising on the borough's character. In this regal borough, where history meets harmony, let us illuminate your world with unmatched electrical finesse and professionalism.
EXCELLENCE COMES AS STANDARD

Why Choose our Richmond on Thames Electricians
Whether you run a bustling café in Twickenham requiring energy-efficient electrical solutions, or own a historic townhouse in Kew needing bespoke electrical fixtures and fittings, trust in our expertise to empower your electrical experience. In this dynamic borough, where tradition meets tomorrow, we're here to ensure that every electrical need is met with precision, care, and unparalleled professionalism.
From Ham to Hampton Court Palace

Home to Richmond Park, the largest park in London, along with attractions like Kew Gardens, Hampton Court Palace, Twickenham Stadium and the WWT London Wetlands Centre, the Borough draws both domestic and international tourism. Our electricians cover all wards within Richmond including:
Barnes
Kew
Mortlake & Barnes Common
North Richmond
South Richmond
East Sheen
Whitton
St Margarets & North Twickenham
Twickenham Riverside
Ham, Petersham & Richmond Riverside
Heathfield
West Twickenham
South Twickenham
Hampton North
Fulwell & Hampton Hill
Teddington
Hampton Twickenham
Hampton
Pictured in the background: The London Peace Pagoda at Battersea Park overlooking the River Thames and Chelsea Bridge.
Residential Electricians in Richmond upon Thames
Electric gates CCTV & door entry systems
Kitchen cooker points & extractor units
Bathroom power shower & towel rails
Electric heaters, boilers & radiators
Energy efficient heating & lighting
Immersion heaters & hot water
TV phone & WIFI electronics
Smart home automation
Switches & fused spurs
Sockets / power-points
Consumer units / fuse boards
Tripping circuits / breaker repairs
Electrical earthing & bonding repairs
Fault finding & 24/7 emergency callout repairs
Commercial Electricians in Richmond upon Thames

Complete & partial wiring & rewiring
Fuse boards transformers & mains cabling
Smoke / fire alarm & sprinkler systems
Emergency power & surge protection
Switches, fused spurs & power-points
UPS uninterrupted power supply
Electric gates & barrier systems
Electric car charging points
CCTV intercoms & security
TV phone & data cabling
Air conditioning systems
Heating control systems
Inspections & maintenance
Portable Appliance Testing (PAT)
Safety inspections testing & landlord EICR
Emergency Electricians in Richmond upon Thames

When your electricity fails, our electricians will fix the problem and restore your power quickly and efficiently. We also help you avoid future problems with regular electrical systems maintenance, inspections & testing services - essential if you run a business that relies on uninterrupted power supply.
Our emergency electricians will respond promptly, within minutes in a 'life or death' situation. All our electricians are qualified to work on any type of electrical emergency situation, be it a domestic power failure, or a commercial property electrical problem, requiring additional skills and certifications. Rest assured all our electricians are:
Fully insured, licensed & bonded
24 hour emergency service
25 year satisfaction guarantee
21 years experience
ELECTRICIAN SERVICES IN SW LONDON
How Our Electricians Work
With prices starting at just £80 /hour, our SW London Electricians combine competitive prices with superior service. Working with homeowners and businesses large and small, we can supply all your electrical needs – installations, upgrades and repairs - from a lightbulb to a full house rewire.
We offer a free survey and fixed price for all full and partial rewires, so you'll know the exact cost upfront and won't be hit with any nasty surprises once the work is complete. If any additional work is required, we'll always provide a quote first. Both internal and external electrical work can be provided.
You get a fixed price quote + a 25 year guarantee on all electrical services. For your peace of mind, we also offer a 24/7 emergency electrician call out service for your home or business - shop, office, hotel, restaurant, workshop, warehouse and more. Community projects welcome at discounted rates.
Fully licensed, bonded and insured, all electrical installations, additions & alterations are carried out to BS7671 standards, to comply with the latest safety regulations, including Part 'P' of the Building Regulations, the Electricity Supply Regulations and the Electricity at Work Regulations.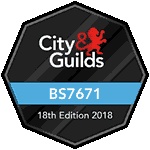 TESTIMONIALS
Customer Feedback
We strive to ensure our service lives up to your expectations - and ours!
REVIEW US
Already a Customer?
In order to continuously improve our service, we rely on your feedback. You can leave a review here on our website. Simply EMAIL US your feedback here.
We would also be delighted if you can leave us a review on our Google My Business listing / GOOGLE MAPS page where you can also find our location on the South West London map.
PS. You don't need a Google or Gmail account to leave a review. Just use your own email when prompted to confirm your identity.
Anastasiia Yuzvak
2022-11-29
I was really impressed by such quick and accurate service. I broke my light switch and the same day I found Putney Electricians. Electrician arrived on the same day and fixed the switch in just 25 minutes, changing it to a new one. I recommend this company to everyone who doesn't understand anything in electricity and need quick help with fixing something. Efficient and quality work was done!
Anastasia Yuzvak
2022-11-29
I was really impressed by such quick and accurate service. I broke my light switch and the same day I found Putney Electricians. Electrician arrived on the same day and fixed the switch in just 25 minutes, changing it to a new one. I recommend this company to everyone who doesn't understand anything in electricity and need quick help with fixing something. Efficient and quality work was done!
Douglas & Sabrina Olizar
2022-08-23
We used Putney Electricians to fix some of our lights and switches, which hadn't been working for a while. We were pleased we used them as they were professional and did an excellent job! They identified the issues quickly and fixed them then and there. I would highly recommend them to anyone needing any electrical work done!
Tomasz was timely, professional, solved the problems and answered all our questions. We will utilise Putney Electricians again and would recommend to others.
Aurora Valentina Dutton
2021-10-23
I would highly recommend Putney Electricians! He attended to one of my tenanted properties for an emergency and fixed the issue straight away. Left my tenants extremely happy and satisfied.
David Thompson
2021-08-27
Very impressed
Great service, installed the new light fixtures in minutes. The worker went above and beyond, helping us to change over a problematic burnt out bathroom spotlight.
Great service on a bank holiday weekend and problem solved in a few seconds!
Requested an EICR (electrical installation condition report) to be done as quickly as possible and no fuss, next day two very professional gentlemen came in, did what they needed to do and by the end of the day I had everything I needed. Thorough, painless and reasonably priced - very good