BATTERSEA ELECTRICIAN SERVICES
Need an Emergency Electrician in Battersea?
Our Battersea Electricians have 21+ years experience in all types of electrical work. We provide a range of electrical services to both domestic and commercial clients in South West London: installations, repairs & maintenance, plus 24/7 emergency electrician callouts. Our electricians are highly skilled, licensed & bonded, electrical engineers. All work is quality assured and carries a 25-year warranty.
FIXED PRICE QUOTES ON ALL ELECTRICAL WORK
Battersea Electrician Rates From £80/Hour
We take a straightforward approach to pricing and strive to offer competitive, fixed price quotes for all our electrical services, so you know in advance what your costs will be, with no nasty surprises. We do not charge for call outs, and with hourly rates from just £80 + VAT, we're both one of the most affordably priced electricians in the Battersea, whilst also being one of the most experienced domestic, commercial and emergency electricians in South West London.
£80
Electrical repairs from
£80 / hour + VAT
£80
From £80 + VAT
per socket / switch
£620
New / replacement
fuse box £620 + VAT
£185
Inspection / Certificates
from £185 + VAT
Putney to
Battersea
3 miles
ELECTRICIANS NEAR YOU
Your Local Electricians in Battersea
With offices in Putney, our electricians are just a short 3 mile drive away, via the A205 / A3 / A3036, from most Battersea, Riverside and Nine Elms residential and business areas, in the London Borough of Wandsworth.
If you need either domestic or commercial electrician services in Battersea, give us a call. We respond quickly to all enquiries, and can be with you in under an hour in an electrical emergency situation.
We pride ourselves on the quality and responsiveness of the electrical services we provide to both domestic & business clients throughout the Battersea area. We always arrive on time, and clean up after ourselves.
We're proud of our decades long reputation for providing high quality, fully guaranteed electrical services, at a competitive price in Battersea.
Battersea's unique cultural mix and diversity of both residential and commercial properties, including shops, hotels, offices, pubs, clubs, restaurants, sports facilities, warehouses and more, creates an interesting day for our electricians in Battersea, making it a key service area for our business.
Battersea
Regeneration
Zone
About Battersea & Nine Elms
Standing on the south bank of the River Thames, in the London Borough of Wandsworth, just 3 miles from Charing Cross in Central London, Battersea stretches from Fairfield in the west, to Queenstown in the east, and Clapham in the South.
Dominated by Battersea Power Station's four distinctive chimneys, and home to the legendary Battersea Dogs and Cats Home, Battersea is a relatively affluent neighbourhood with a large park, wine bars, restaurants, independent shops, and the famous New Covent Garden Market which has kept many of London's restaurants supplied with fresh fruit, vegetables and flowers for more than a century.
Battersea housing ranges from modern steel & glass structures on the banks of the river, with underground parking, gyms, pools and concierge services, to turn of the century mansion blocks and grand villas around Battersea Park, picturesque cottages on tree lined streets, and Victorian terraced houses with high ceilings and bay windows. The houses get bigger the closer you get to Clapham Common.
Adjacent Nine Elms, once a rundown industrial district, is now Europe's largest cultural and business regeneration zone, 3.5 times larger than Canary Wharf, creating thousands of jobs and attracting business into the area, including tech giant Apple, who based its London HQ here. Residential property in Nine Elms ranges from new luxury homes, penthouses and river-facing apartments, to affordable housing,
Two underground stations linked to the northern line at Vauxhall provide excellent transport links to the City, Central London and West End. A new footbridge over the Thames joins Nine Elms with Chelsea.
Residential Electricians In Battersea
Complete & partial house wiring & rewiring
Electric gates CCTV & door entry systems
Kitchen cooker points & extractor units
Bathroom power shower & towel rails
Electric heaters, boilers & radiators
Energy efficient heating & lighting
Immersion heaters & hot water
TV phone & WIFI electronics
Smart home automation
Switches & fused spurs
Sockets / power-points
Consumer units / fuse boards
Tripping circuits / breaker repairs
Electrical earthing & bonding repairs
Fault finding & 24/7 emergency callout repairs
Commercial Electricians in Battersea
Complete & partial wiring & rewiring
Fuse boards transformers & mains cabling
Smoke / fire alarm & sprinkler systems
Emergency power & surge protection
Switches, fused spurs & power-points
UPS uninterrupted power supply
Electric gates & barrier systems
Electric car charging points
CCTV intercoms & security
TV phone & data cabling
Air conditioning systems
Heating control systems
Inspections & maintenance
Portable Appliance Testing (PAT)
Safety inspections testing & landlord EICR
Emergency Electricians In Battersea
When your electricity fails, our electricians will fix the problem and restore your power quickly and efficiently. We also help you avoid future problems with regular electrical systems maintenance, inspections & testing services - essential if you run a business that relies on uninterrupted power supply.
Our emergency electricians will respond promptly, within minutes in a 'life or death' situation. All our electricians are qualified to work on any type of electrical emergency situation, be it a domestic power failure, or a commercial property electrical problem, requiring additional skills and certifications. Rest assured all our electricians are:
Fully insured, licensed & bonded
24 hour emergency service
25 year satisfaction guarantee
21 years experience
ELECTRICIAN SERVICES IN BATTERSEA
How We Work
With prices starting at just £80 /hour, our Battersea Electricians combine competitive prices with superior service. Working with homeowners and businesses large and small, we can supply all your electrical needs – installations, upgrades and repairs - from a lightbulb to a full house rewire.
We offer a free survey and fixed price for all full and partial rewires, so you'll know the exact cost upfront and won't be hit with any nasty surprises once the work is complete. If any additional work is required, we'll always provide a quote first. Both internal and external electrical work can be provided.
You get a fixed price quote + a 25 year guarantee on all electrical services. For your peace of mind, we also offer a 24/7 emergency electrician call out service for your home or business - shop, office, hotel, restaurant, workshop, warehouse and more. Community projects welcome at discounted rates.
Fully licensed, bonded and insured, all electrical installations, additions & alterations are carried out to BS7671 standards, to comply with the latest safety regulations, including Part 'P' of the Building Regulations, the Electricity Supply Regulations and the Electricity at Work Regulations.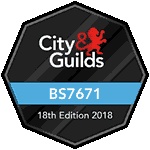 TESTIMONIALS
Customer Feedback
We strive to ensure our service lives up to your expectations - and ours!
REVIEW US
Already a Customer?
In order to continuously improve our service, we rely on your feedback. You can leave a review here on our website. Simply EMAIL US your feedback here.
We would also be delighted if you can leave us a review on our Google My Business listing / GOOGLE MAPS page where you can also find our location on the South West London map.
PS. You don't need a Google or Gmail account to leave a review. Just use your own email when prompted to confirm your identity.
Great service, installed the new light fixtures in minutes. The worker went above and beyond, helping us to change over a problematic burnt out bathroom spotlight.
Requested an EICR (electrical installation condition report) to be done as quickly as possible and no fuss, next day two very professional gentlemen came in, did what they needed to do and by the end of the day I had everything I needed. Thorough, painless and reasonably priced - very good
Very reasonably priced. Came at the weekend and saved us having to have cold showers and freezer thawing. Polite and hard working. Thank you.
Great service on a bank holiday weekend and problem solved in a few seconds!
COMPETITIVE LONDON ELECTRICIAN PRICES
Why Choose Our London Electricians
Whether the job is big or small, domestic or commercial; to protect your property from power loss, or damage caused by poor electrical work, make sure you chose the best electrician for the job. If you want the job done right first time, we're a great choice.
With hourly rates from just £80 + VAT, and no call out fee, we're both one of the most affordable electricians in London, AND one of the most experienced. So, if you need an electrician, especially in an emergency situation, give us a call today.