FULHAM ELECTRICIAN SERVICES
Are you in need of Emergency Electrical services in Fulham?
With more than two decades of experience in various aspects of electrical work. Our Fulham Electricians serve both home and business customers in South West London with an array of services. Comprising installations, repairs & maintenance plus 24/7 emergency electrician callouts. Possessing superior know-how and credentials, our electricians are licensed & insured electrical engineers. Moreover, you can trust that all jobs come with a 25-year warranty for your peace of mind.
FIXED PRICE QUOTES ON ALL ELECTRICAL WORK
We are available From £80+VAT per hour.
Our pricing is easy to understand, with fixed quotes and no call out fees. We offer competitive hourly rates at just £80 + VAT, so you'll get great value with us as one of South West London's most experienced domestic, commercial, and emergency electricians in Fulham.
£80
Electrical repairs from
£80 / hour + VAT
£80
From £80 + VAT
per socket / switch
£620
New / replacement
fuse box £620 + VAT
£185
Inspection / Certificates
from £185 + VAT
ELECTRICIANS NEAR YOU
Your Local Electrician in Fulham
We're practically neighbours! If you're looking for an electrician near you in Fulham, or the London Borough of Hammersmith and Fulham in Central London, look no further. Located close to Putney Bridge on the south bank of the Thames, our electricians are almost 'stone's throw' from Fulham - a short 2 mile drive across the Putney Bridge
Our very close proximity to Fulham means our experienced electricians can get to you anywhere in Fulham very quickly. So if you need a fast and efficient domestic or commercial electrician in Fulham, give us a call. We respond quickly to all enquiries, and can be with you in under an hour in an electrical emergency situation - minutes if it's a life or death situation.
With decades of experience in the Fulham area, we offer competitive rates for a variety of top-notch electrical services. If you require an upgrade for your home's wiring or a commercial installation for your business, we can assist. Furthermore, punctuality and tidiness are guaranteed at all times.
Residential Electricians In Fulham
We offer full and partial home wiring and rewiring
Installing electric gates, (CCTV) systems, and door entry solutions
Kitchen cooker points & extractor units
Stovetops and range hoods for kitchen
Power shower and towel rails for your bathroom
Electric heating systems such as boilers and radiators.
Efficient heating and lighting solutions for energy saving
Immersion heaters & hot water
TV, phones, WiFi and other electronics
Smart home automation
Switches & fused spurs
Sockets / power-points
Consumer units / fuse boards
Tripping circuits / breaker repairs
Electrical earthing & bonding repairs
Providing fault diagnosis and emergency repair services around the clock
Commercial Electricians in Fulham
Offering both full and partial wiring, as well as rewiring services
Fuse boards transformers & mains cabling
Smoke and fire alarms, as well as sprinkler systems
Emergency power & surge protection
Switches, fused spurs & power-points
UPS uninterrupted power supply
Automated gate and barrier systems
Electric car charging points
CCTV intercoms & security
Installing television, phone, and internet cables
Air conditioning systems
Heating control systems
Inspections & maintenance
Portable Appliance Testing (PAT)
Safety inspection tests and landlord Electrical Installation Condition Reports (EICR) are available.
Emergency Electrician In Fulham
Our electricians can fix any electricity issues you may have quickly and efficiently. We also offer regular maintenance services, inspections, and testing to help you prevent further power outages if your business relies on continuous power.
For an emergency, regardless of whether it's life or death, our electricians will respond within minutes. Our professionals are trained to work on any type of electrical situation in both residential and commercial properties and have the certification required for such scenarios. You can be assured that all our electricians are:
Fully insured, licensed & bonded
24 hour emergency service
25 year satisfaction guarantee
21 years experience
ELECTRICIAN SERVICES IN FULHAM
How We Work
Our top-notch Fulham Electricians provide excellent services starting at just £80+vat/hour. We work with both homeowners and businesses, big or small, to deliver any of your electrical needs - be it changing a light bulb or a full house rewire.

We provide a no-cost survey and a fixed cost for full or partial rewiring of your property. You'll know the exact price before any work starts.
We offer fixed pricing and a 25-year guarantee on all electrical services. Plus, our 24/7 emergency electrician call out service ensures your peace of mind for your home or business such as shops, offices, hotels, restaurants, workshops, warehouses and more. We also offer discounted rates for community projects.
Our electrical installations are all compliant with BS7671 standards, Part 'P' of the Building Regulations. Electricity Supply Regulations and the Electricity at Work Regulations to ensure the highest safety regulations. Plus, we're fully licensed, insured and bonded.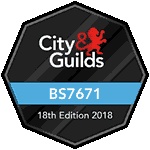 TESTIMONIALS
Customer Feedback
Our service should meet both your and our expectations.
REVIEW US
Already a Customer?
To keep improving our services, your feedback is essential. You can share it with us by writing a review on our page. Just submit your opinion here or EMAIL US
We would be thrilled if you could leave us a review on our Google My Business page, which can also show you where we are located in South West London on the map. GOOGLE MAPS
PS. You don't need a Google or Gmail account to leave a review. Just use your own email when prompted to confirm your identity.
The worker provided excellent service, quickly installing the new light fixtures. They even went above and beyond by helping us switch out a faulty bathroom spotlight.
I put in a request for an EICR, and the next day two well-qualified people arrived, got the job done efficiently, with no complications. I was very impressed -- their work was speedy, comfortable and reasonably priced.
We got a great deal on the cost. By coming on the weekend, we avoided cold showers and having to thaw our frozen food. The service was polite and diligent; thank you!.
I received fantastic customer service even during the busy bank holiday weekend, and my issue was quickly resolved!
COMPETITIVE LONDON ELECTRICIAN PRICES
Why Choose Our London Electricians
Whether you need standard electrical work done on your property or a more specialized job. Choose the best electricians to make sure it's done properly. If you want the job done correctly without any power loss or damage, we're an excellent choice.
Our professional electrician services are both affordable (starting from £80 + VAT) and experienced; no call out fee is required. In case of an emergency, contact us now for the best service in London.